Choosing Where to Go
Last Winter, we made the decision to take a family vacation with my husband's family. This was before vaccinations were available, so our goal was to find someplace where we could hang out without crowds. We wanted to go to a beach, but we had heard about horrible crowds last summer along the larger beach towns. My husband found the perfect beach for this situation! We were looking at Prime Hook and Broadkill Beaches near Milton, Delaware. Both were small residential communities along the Delaware Bay, without public access to the beach, but also close enough to some of the beach towns to let us go some places if we wanted to.
Prime Hook Beach and our Airbnb
By January, it was already challenging to find a house for a week in the summer – they booked up quickly! We ended up finding a smaller Airbnb in Prime Hook. It wasn't directly on the beach, but it backed up to a large nature preserve, and was a quick walk to the beach. The actual beach was amazing, particularly at low tide. When the water receded you could see how gentle the slope was into the water, and at low tide large islands appeared, and there were hundreds of feet of beach with just an inch or two of water. It was perfect for our three-year-old. We also found a bunch of horseshoe crabs. We weren't aware of it but Prime Hook Beach is a known spot where they go to spawn. Every evening we'd find some left on the sand as the water receded. Anais went to the beach every day. I'd love to say we did the same with the babies, but I think they only went once. On the last evening, Anais made a friend from a nearby house and had fun running around the beach and digging holes with another young girl.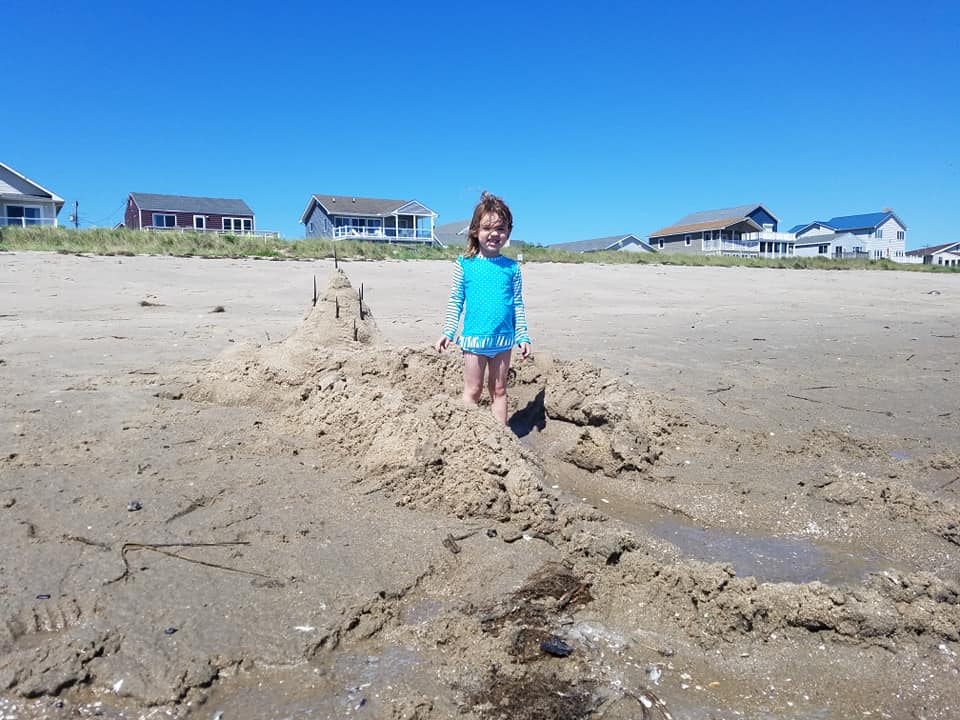 Milton, Delaware
Milton was our closest town, and it was small, but had a cute downtown with an amazing park for kids. It had play equipment, a picnic area, a bunch of benches, and the best part was that it was next to a lake with a small boat ramp, so you could watch kayakers and paddle boarders while at the park. Anais and I also made a few single-serving friends. As a side note, I love single serving friends. If you aren't familiar with the term, it's when you make a friend for just one activity, like a plane ride, or a trip at the park, but you don't stay in touch, or even necessarily ask their name. It's like easy companionship with no pressure.
Coffee Adventures
One side effect of my horrible morning sickness from when I was pregnant, is I still cannot stomach the taste of hot coffees. Even after my pregnancy, I've gotten sick from trying to drink regular coffees. I do love caffeine though, and I've developed a strong addiction to iced lattes. I tried to convince my husband to let us bring our espresso machine and coffee grinder, but space in the car was at a premium and he didn't seem to think this was essential beach equipment. No worries – I found a coffee shop in the nearby town of Milton on google, so I thought I was all set. So the first morning, I hopped in the car to check it out, only to find out it became a hair salon. In the town of Milton (and much of that area, I had no cell / internet service) so I found someone on a walk and asked them where the nearest coffee shop was, only to have them tell me it was in the town of Lewes. So, up for an adventure, we headed in that direction, found a Starbucks in a grocery store on the main road, and maybe an hour later we made it back to the house. I do love iced lattes (and adventures) but taking an hour each morning to go find one seemed a bit unreasonable. The next day, we found local coffee place, the Notting Hill Coffee Roastery, but still, I was seriously contemplating giving up my coffee habit that week due to how long it was taking. Lo and behold, when my husband went to a local place to grab dinner that night, at the Backyard Milton, he came home to report that the restaurant had a small coffee shop in it. So there was a place close by all along! I have to say, we picked up a coffee every morning (and if we were in town later, we'd get another sometimes).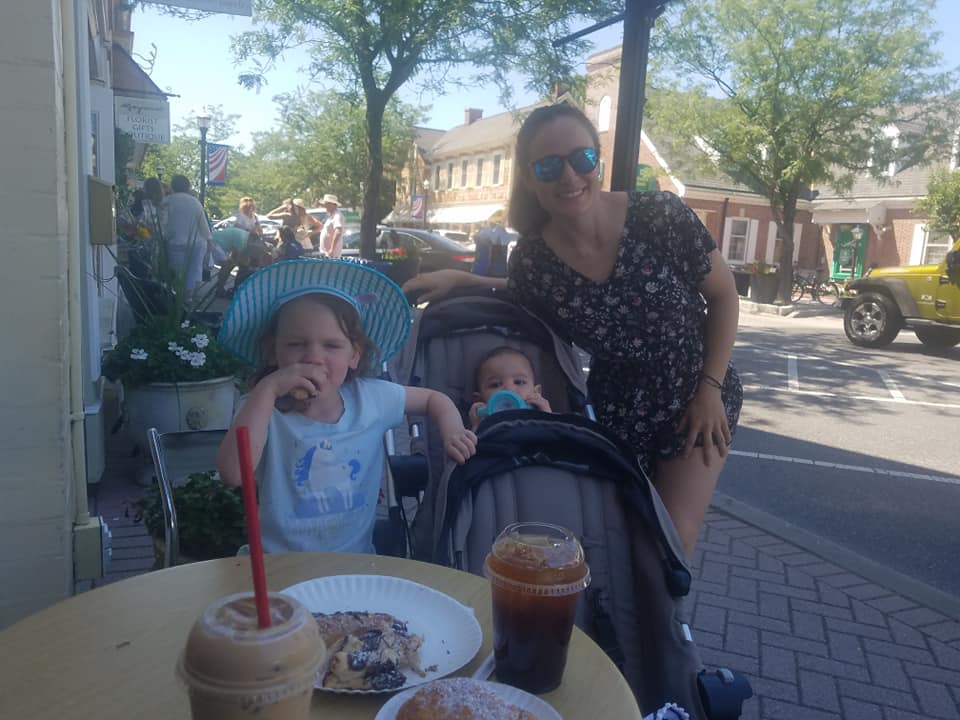 Prime Hook National Wildlife Refuge
One of the reasons I was excited to visit Prime Hook was that it was located right next to the Prime Hook National Wildlife Refuge. I love being able to do short hikes with Anais, my three-year-old. I printed off a map before we went, and since I only have black and white printer, I used colored pencils to mark each trail so we could try to do them all while we were there. We didn't succeed in doing all of them, but I did three of the six trails. I guess I saved a few for next time. When we were there we saw frogs, snakes, and even a few deer. We did however, bring some souvenirs back to the beach house with us. Even though we used bug spray, both my husband I found deer ticks on us later.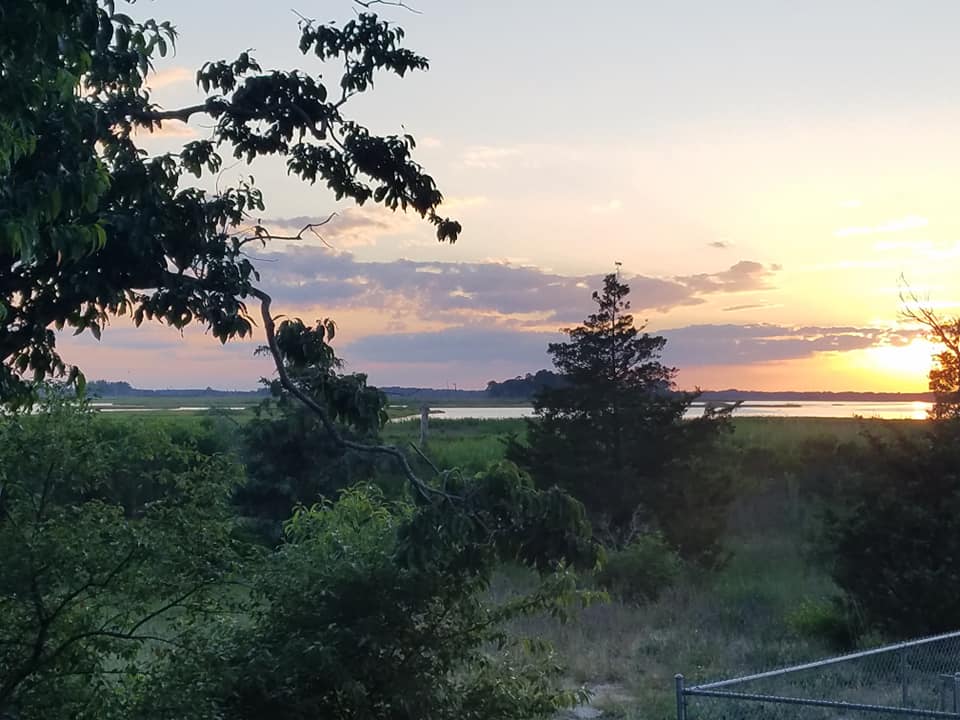 Trip to Rehoboth Beach – New Mom Friend to the Rescue!
One afternoon, we decided to check out Rehoboth Beach, which was nearby. All in all, it wasn't my scene. The stores along the main area were often generic beach stores, and it was incredibly crowded. As we got to the main boardwalk by the beach, it was just a huge mass of people, so we quickly walked back up away from the crowd. We did make a critical parenting mistake on this trip – we forgot the diaper bag! When we got to Rehoboth and paid for parking, and started putting the twins in the stroller, we realized our mistake. Fortunately, we had a separate cooler where we had water and bottles of milk for the twins, but we didn't have diapers, wipes, or spare outfits. Given it was a 40 minute drive, I wasn't too keen to turn around and go back, so I decided to chance it. I said that we'd either just pick up diapers and wipes at a drugstore, or I'd just make a new mom friend and ask if she had any size 4 diapers. As it turns out, that is exactly what I did! We stopped for some iced coffees, and while we were sitting inside next to the open door, a man at the register yelled to a women outside watching four kids if she wanted a hot or iced coffee. She didn't hear him, so I popped out to ask her and relayed back her answer. We started chatting, and I explained we forgot our diaper bag, and half-jokingly asked if she happened to have any size 4 diapers on her. She said she didn't – but they had some in the car! So she and her family went back to their car, which was nearby, to give us a diaper hookup. We both thought it was a great story, and it's just wonderful when other parents can help you out! Below is a picture of Mia, my instant mom friend and the woman who saved our day!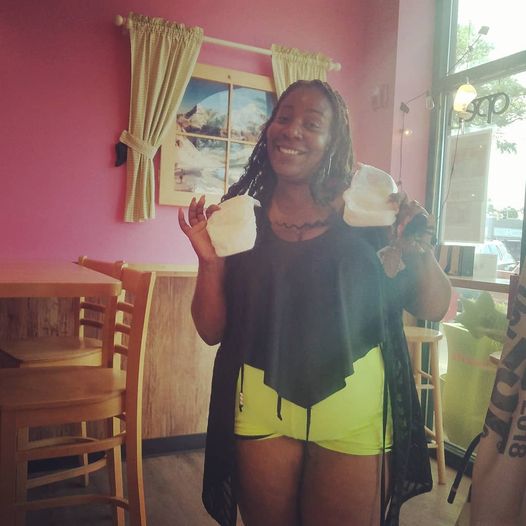 Planning our Next Vacation
While we were still on this vacation, my husband asked me if I'd want to do this all again in the fall. My answer was maybe! Traveling with three little kids was a ton of work, and I was exhausted most of the time, and mainly just wanted some alone time by the end of the week. To be honest, I don't think the twins cared too much where we were, although I think they were excited that they got to see us all day long. But Anais had an amazing time at the beach, so I think maybe it would be worth taking her back. I'm thinking perhaps in the Fall, I realized that on this trip, no one ever actually went swimming – everyone just played in the sand or in the surf, so I think a vacation when it's cooler (we were stuck inside from 11am to 3pm each day due to the sun and heat) would work out well. Any recommendations on where we should go to next time?

Some of my Favorite Beach Items - Be Prepared if you go!

Sandproof Beach Blanket: There are a ton of options, but I love the sandproof beach blankets. I hate having to shake out sand from a regular beach blanket, and these just keep your kids so much cleaner.

Beach Pop up Tent: In full transparency we bought a beach pop up tent over a decade ago, for our Icelandic Sheepdog, Buska, for when we took her camping at the beach. We've also packed it to travel when we took Anais to the Florida Keys when she was just under a year-old. Most recently, we've just set it up in the backyard to let our kids play in it. They were less excited than I thought they'd be.

Mesh Shell Collecting Bag: We haven't used these yet, but I'm planning to take them to beach this time. Anais has loved finding shells and beach items in the past so I'm hoping these will help give them an activity to do at the beach.

Update! We traveled initially in 2021, but we have now booked our 2022 vacation! We'll be headed there in May this year just before Memorial Day and my parents will be joining us for a while from Nebraska!
To discover new blog posts, please follow me on Facebook and Instagram.