Like most people, this 2020 experience was something I wasn't anticipating. I thought it'd be fun to try to recall a memory from each month (a photo from each month is included as well!). Many thanks to Facebook, who made finding pictures a breeze, and also helped remind me what I did each month.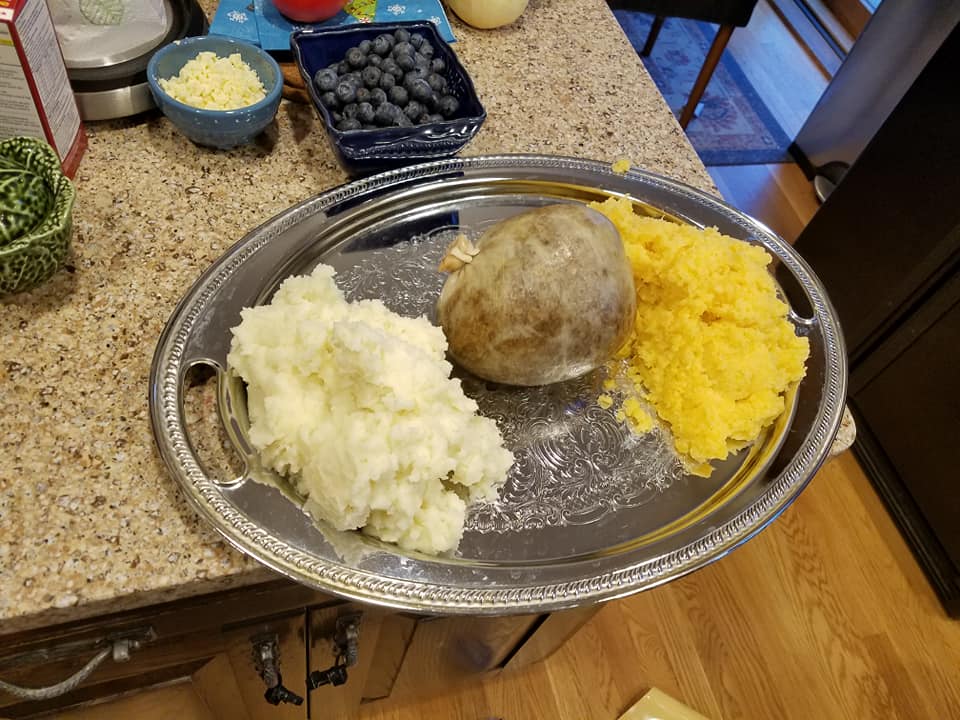 January
January is important because it was the time before 2020 became a swear word. It's also the month that Janeth arrived to live with us from Colombia. She was going to stay from January until March, but little did she know… I didn't have many pictures from January, but I did find one of our Robbie Burns dinner. We had some of our neighbors over, and my husband made Haggis (look it up if you dare), Neeps & Tatties (Mashed Parsnips & Turnips), and a lot of whisky was served. I was quite pregnant, so I didn't really have the whisky, and I certainly couldn't stomach the haggis. I did find the Scottish music we played, and the poetry renditions enjoyable (Check out Address to a Haggis). My husband ordered two Haggis's (or Haggi?) this year, as we can't have our neighbors over due to Covid, so they have a Haggis and we have a Haggis. Brilliant.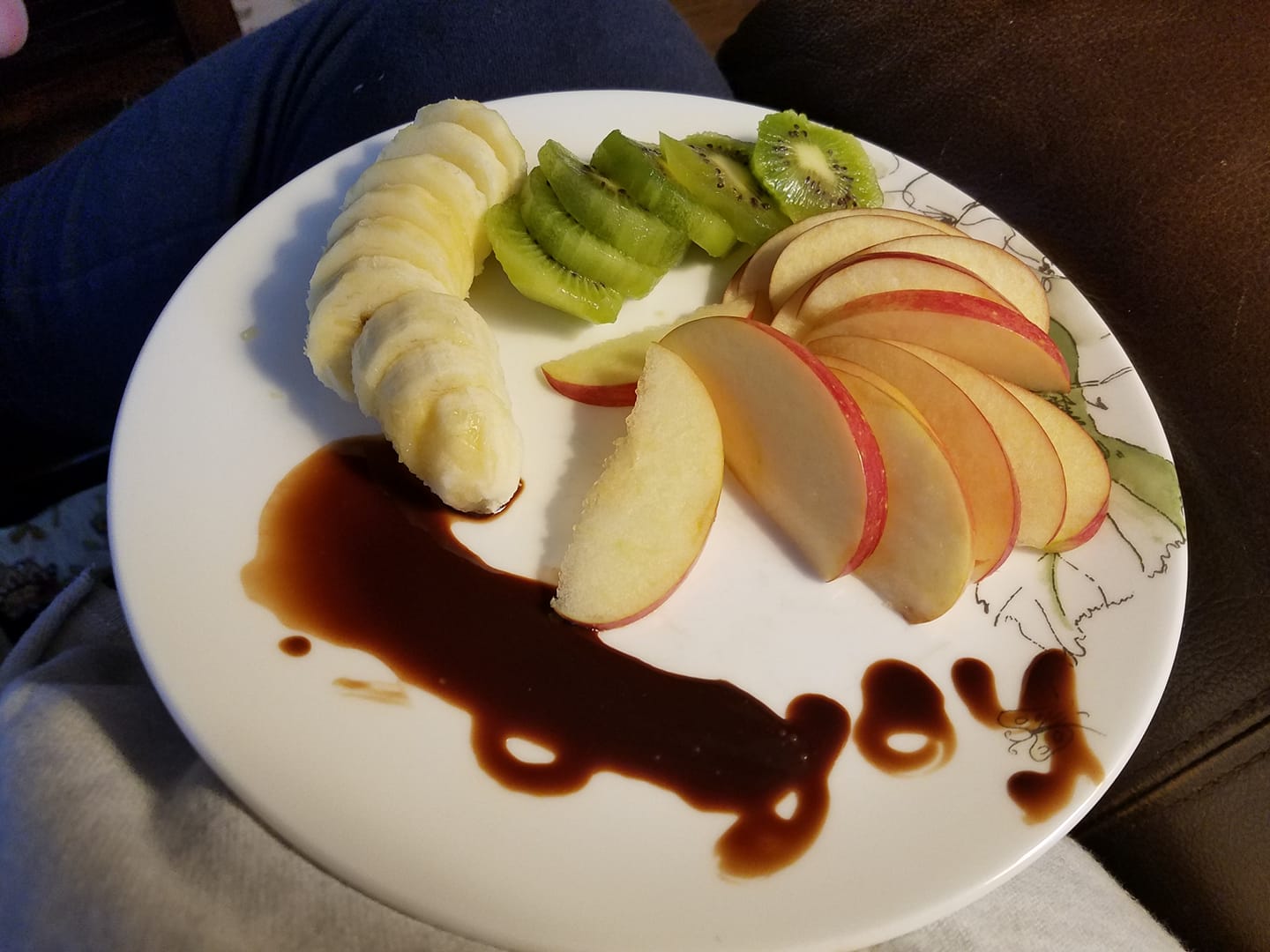 February
In February, I spent the month wondering if the babies would come early, and teleworking. I usually ended up working from the couch with my feet up with pillows underneath. I literally could not sit at desk chair for very long, as it was too uncomfortable. I also had to take regular naps. Janeth quickly earned her place in my heart, as when I was working she'd just stop by with snacks she made for me. The fruit plate in the picture said, "Enjoy" in chocolate, but I messed it up when I grabbed my phone to take this shot. The fruit was always appreciated! (Also, I just realized the first two pics of the year are of food. But you try being very pregnant with twins and thinking of much else.)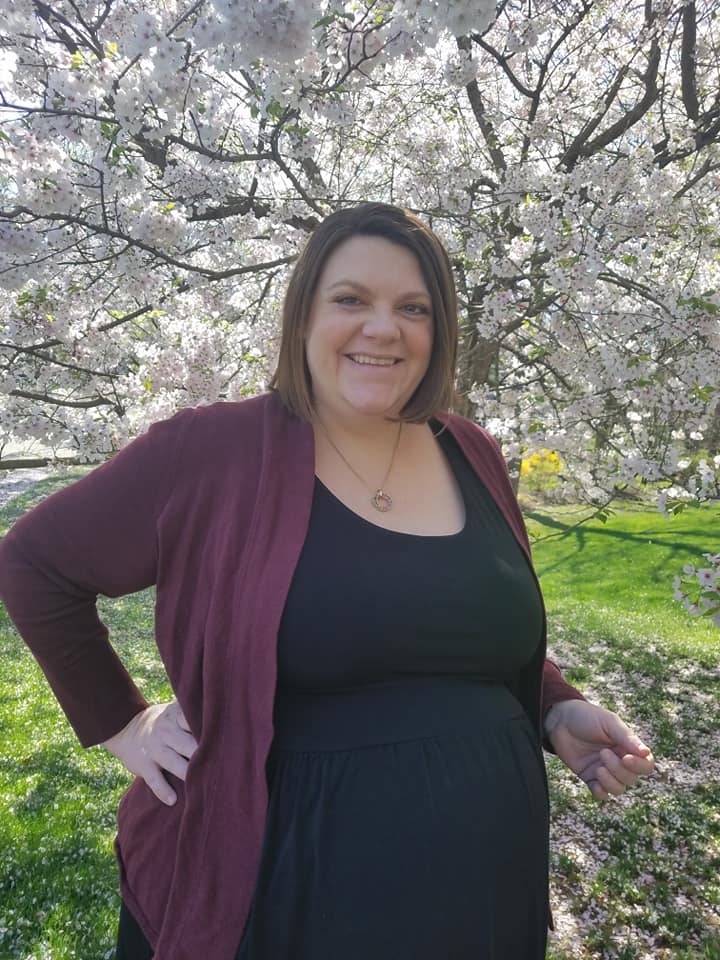 March
At the beginning of March, my Maternal Fetal Medicine (MFM) Doctor wanted me to go on leave from work. She had a serious talk with me and my husband when she told us this that my only job was to grow the babies. I wasn't supposed to do housework, or get the nursery ready, I was literally supposed to rest and relax and try to get these babies as far along as we could. At the time, Baby B (Gisele) was very small. She had been dropping every visit, starting I think at the 40% percentile for weight and getting down to maybe 8% or 9%. It was a big enough concern that if she got too small, we'd be induced to have the babies come early. So that is what I did. The first two weeks were as nice as they could be expected, weighing 40 lbs more than usual and needing to go to the bathroom every 35 minutes. I read some books, took a morning and an afternoon nap, and caught up on a lot of TV. But as Covid started to become more of concern, we made the difficult decision to pull Anais from daycare. I had been reading stories of moms who found out they had Covid when they went into labor, and some hospitals were taking the babies away to quarantine them from the parents until they were no longer positive for Covid. This was a huge fear of mine at the time. So we decided that Anais would stay home with me, and my husband requested that he be able to work from home so as to not risk exposure. We didn't go anywhere or see anyone really during this time. I remember that I let Anais watch a lot of TV while I laid on the couch, and that my favorite time of day was in the afternoon after lunch when we'd both go up to my room and nap together.

The photo for March is of the DC Cherry Blossoms, only from a neighborhood in McLean (a Virginia suburb where my in-laws live) that happened to have a few Cherry trees. Janeth was not able to see the Cherry trees because of Covid, so I made sure to find some nearby so she could see them and take a few pictures.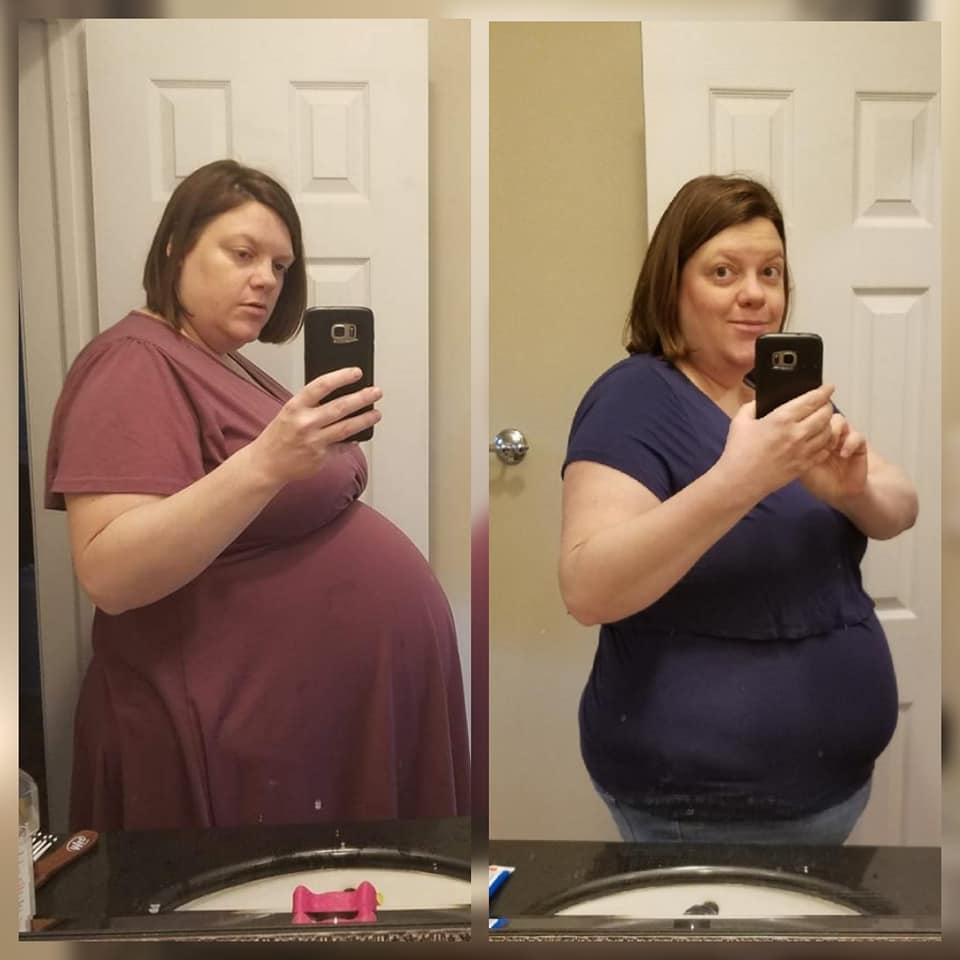 April
The highs and lows of this year happened on the same day for me. On April 1st, the twins arrived early that morning at 1:04am and 1:10am. They were only six minutes apart because I took a break to meet Gisele.. I was amazed that even at their lower birth weights (Gisele, 5 lbs 7.1 oz and Vivienne 4 lbs, 12.5oz, they didn't need NICU time. I was so excited to call my parents and my sisters to talk to them about the babies. When I was on the phone with my mom that evening, I remembered that my sister had a mammogram that led to a biopsy the last week, and I asked if she had the results yet. My mom said she was going to let my sister tell me – but it was obvious that she had started crying. I knew the results were not good. I called my sister afterwards and she let me know did discover she had cancer – they were planning on telling me the next day so as not to spoil my first day with the twins.

In the photo the before picture is at 36 weeks. I didn't have the babies until 38 weeks and 1 day, but I didn't think to take a later photograph. The after picture is 2 days after delivery. Can you just see how much happier I am not to be pregnant? Being pregnant with twins was soul-crushingly exhausting. As soon as I delivered the twins I felt so much better.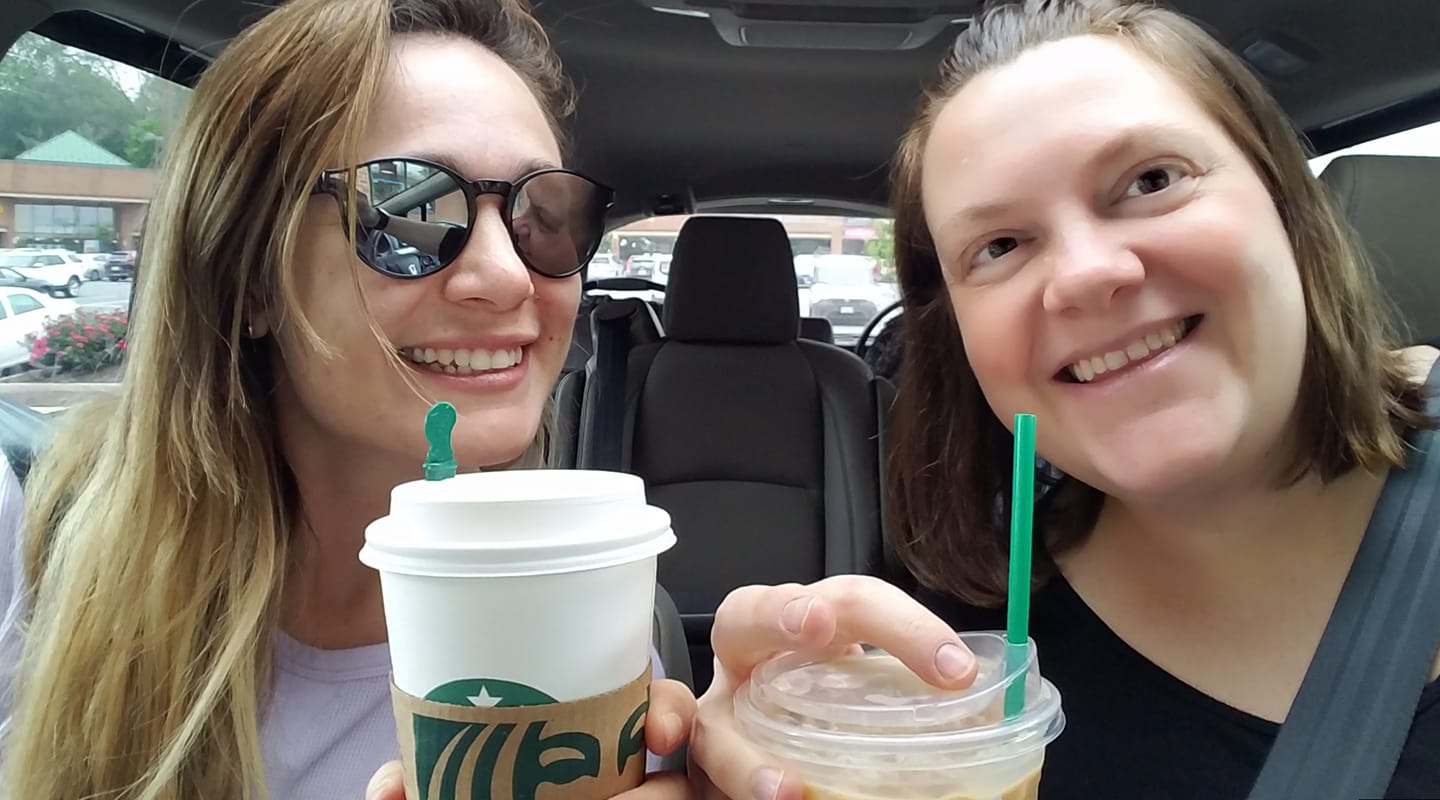 May
In May my husband went back to work. We never did send Anais back to daycare, so she was home with us as well, although at some point she started going to my MIL's most days. The picture for May is of our first Borondo! Borondo is a Spanish word from Cali, Colombia, which is a road trip, that may also involve drinking at the end of it. For us, it involved coffees! Borondos ended up being an amazing way to get out of the house. With Covid, we couldn't actually go anywhere, so we would hop in the car with the kids, grab some coffees, and just drive around and listen to music. This Christmas, I made Janeth a borondo playlist on Spotify, to remember all the good drives.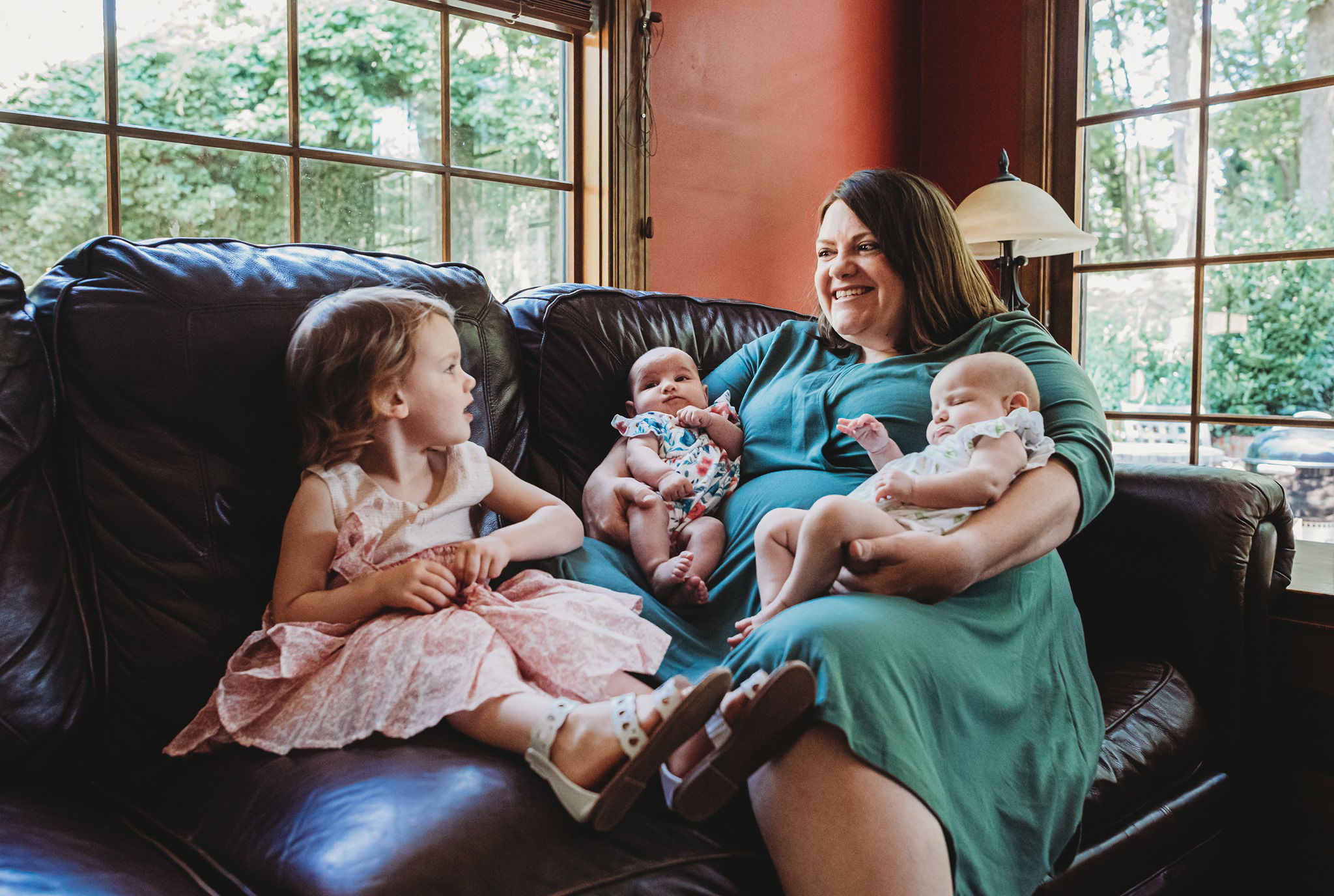 June
In late June we were finally able to do our "newborn" photoshoot, that was originally going to back in early April! With the area's Covid restrictions, our photographer wasn't able to come until the restrictions lifted. She wore a mask and stayed 6+ feet away. It was an interesting experience. June was also the month we had to make the challenging decision to rehome our dog Fafner. It was a really hard summer. You'd think with three beautiful and healthy girls it'd be enough, but the stress of being worried about Covid, not seeing friends or my family, and just post-partum hormones really made it a hard time. July
In July it was a challenge to balance getting out of the house with also ensuring it wasn't too hot. On hot days, we'd just drive around, but if the day was nicer, we'd load everyone up and go exploring. We found so many new parks in Northern Virginia. We had to ensure we looked for parks that had paved trails, and lots of shade, since the babies were still so young and couldn't wear sunblock yet. We also had Anais's birthday party on the 29th. It was a small gathering, with just our Covid pod, some pizza, and cake.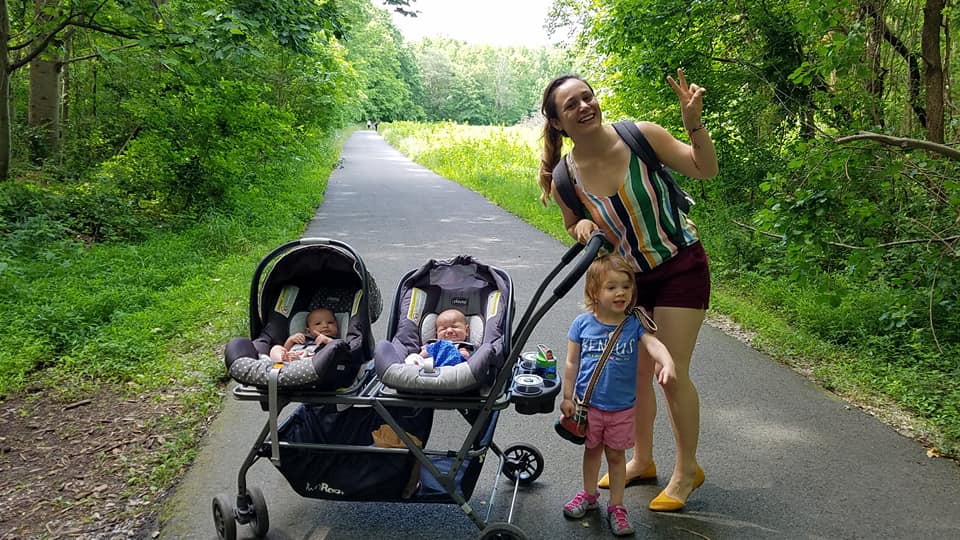 July
In July it was a challenge to balance getting out of the house with also ensuring it wasn't too hot. On hot days, we'd just drive around, but if the day was nicer, we'd load everyone up and go exploring. We found so many new parks in Northern Virginia. We had to ensure we looked for parks that had paved trails, and lots of shade, since the babies were still so young and couldn't wear sunblock yet. We also had Anais's birthday party on the 29th. It was a small gathering, with just our Covid pod, some pizza, and cake.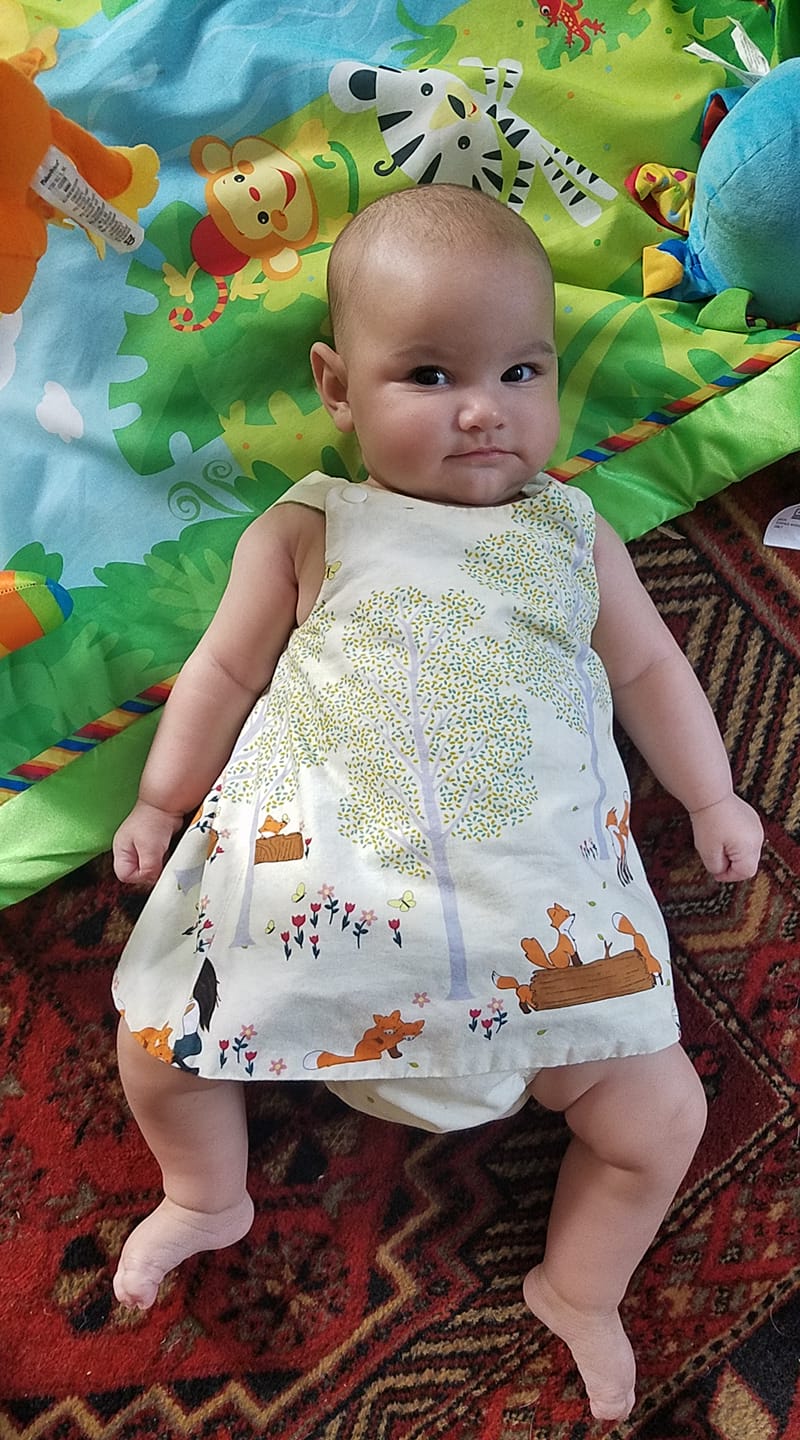 August
Um, I don't remember much about August. But here is an adorable picture of Vivienne in an outfit my MIL made for her. My MIL does an amazing job sewing clothes for the babies. Gisele had a matching dress (not the exact same, but complimentary). All three girls have clothes she has made them! I have a storage box downstairs where I am keeping them all for when the girls get older in case any of them have girls as well!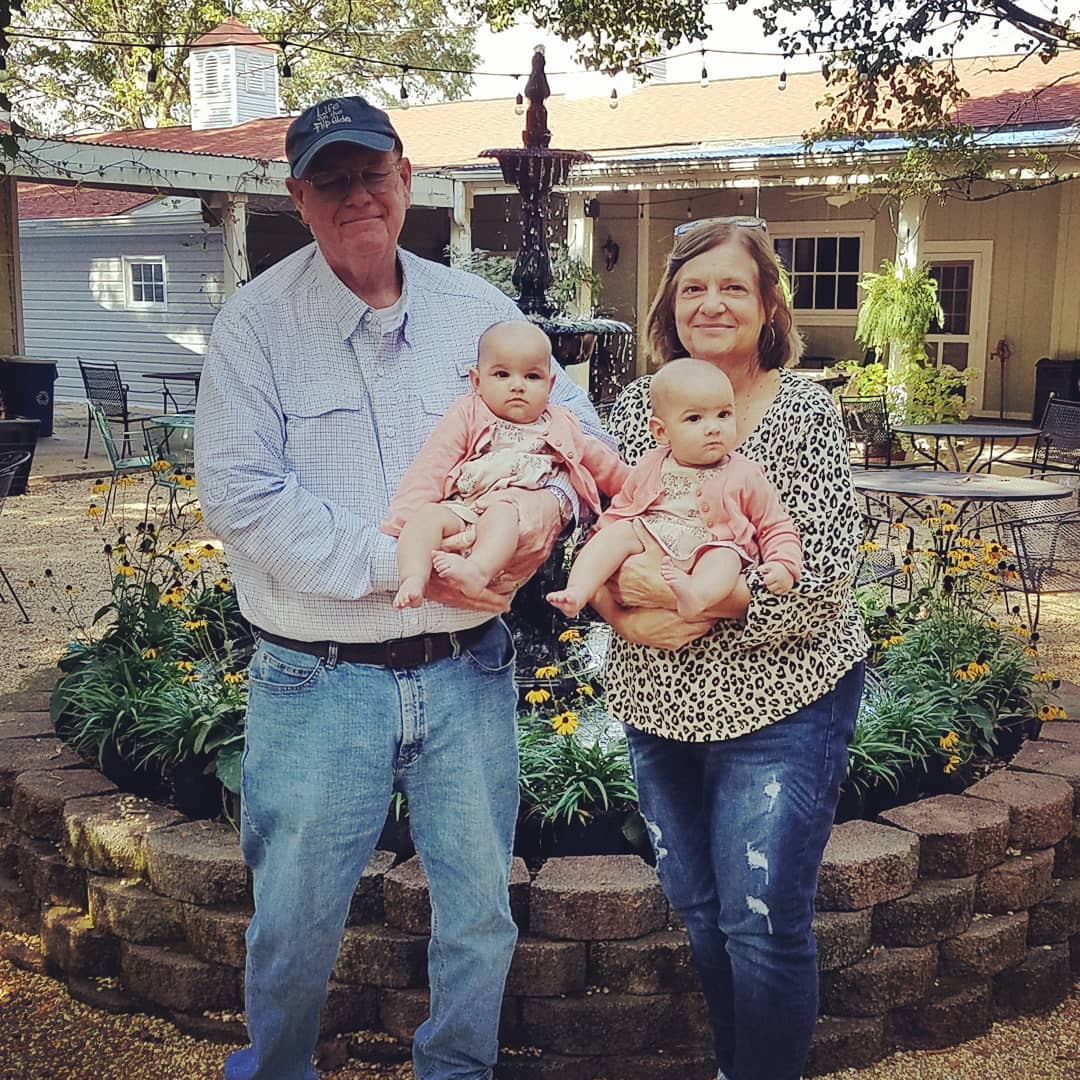 September
In late September, we went on a Covid vacation! We rented a 100-year-old farmhouse on the Potomac river a few hours away. The first week we spend with my in-laws, and the second week my parents drove all the way from Nebraska to meet the twins for the first time! It was an amazing time. We relaxed at the house and explored Virginia's northern neck, including going hiking at a local state park, and checking out Ingleside Winery, where this picture is from. I was a bit worried about going to a Winery with Covid, but they had a huge outdoor space and only two other tables were taken the entire time we were there (helps to go mid-day on a weekday).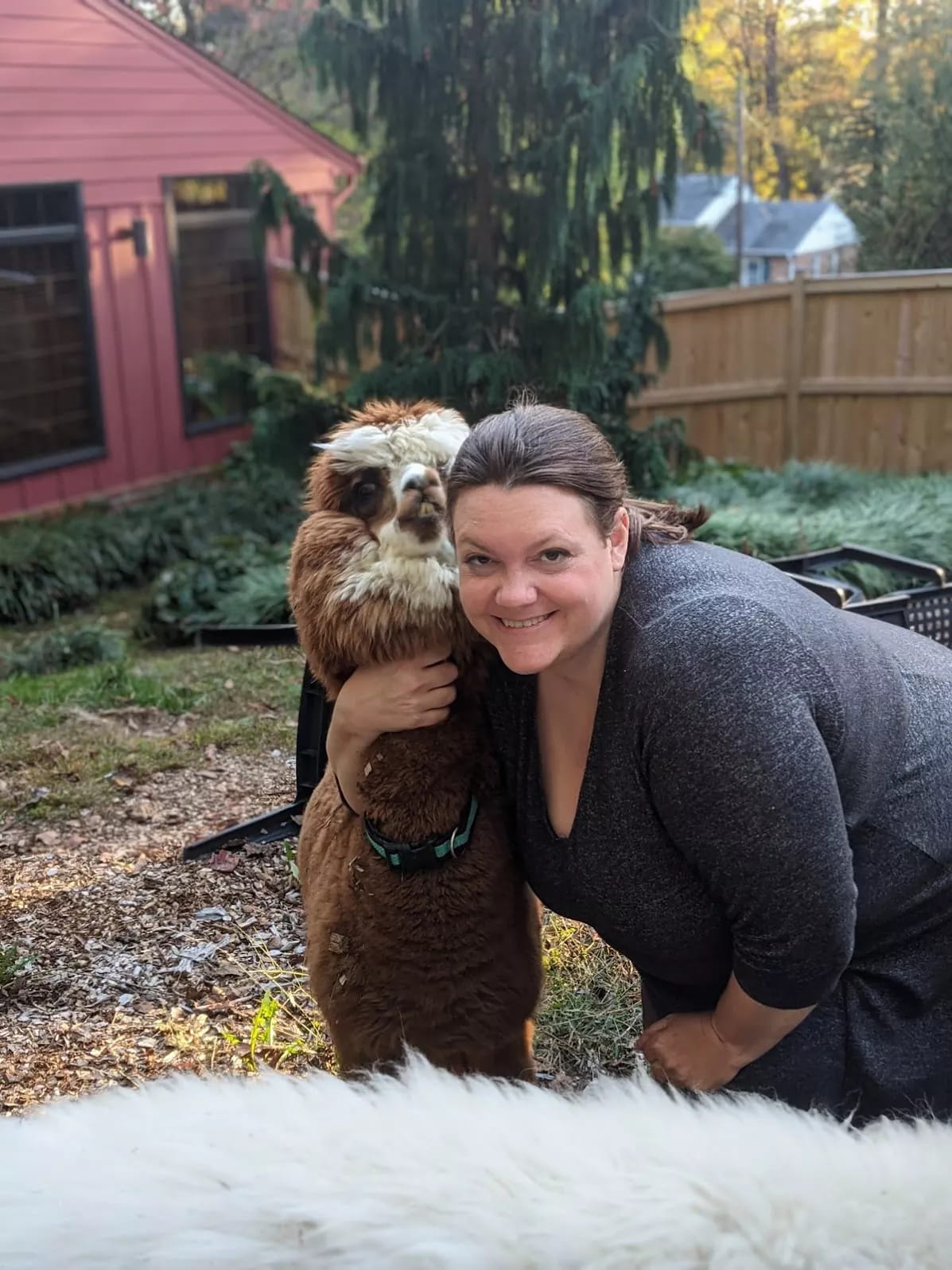 October
For my birthday, I rented a pair of Alpacas. Seriously – renting alpacas is a real thing! On this day I also learned that Gisele, who is typically fearless, is absolutely terrified of Alpacas. Honestly, it was so much fun and I was so excited. We also went out for the first time to a restaurant – Mohan and I went to Clarity for their outdoor dining. It was so amazing, but we agreed afterwards that it's probably best to stick to takeout just in case.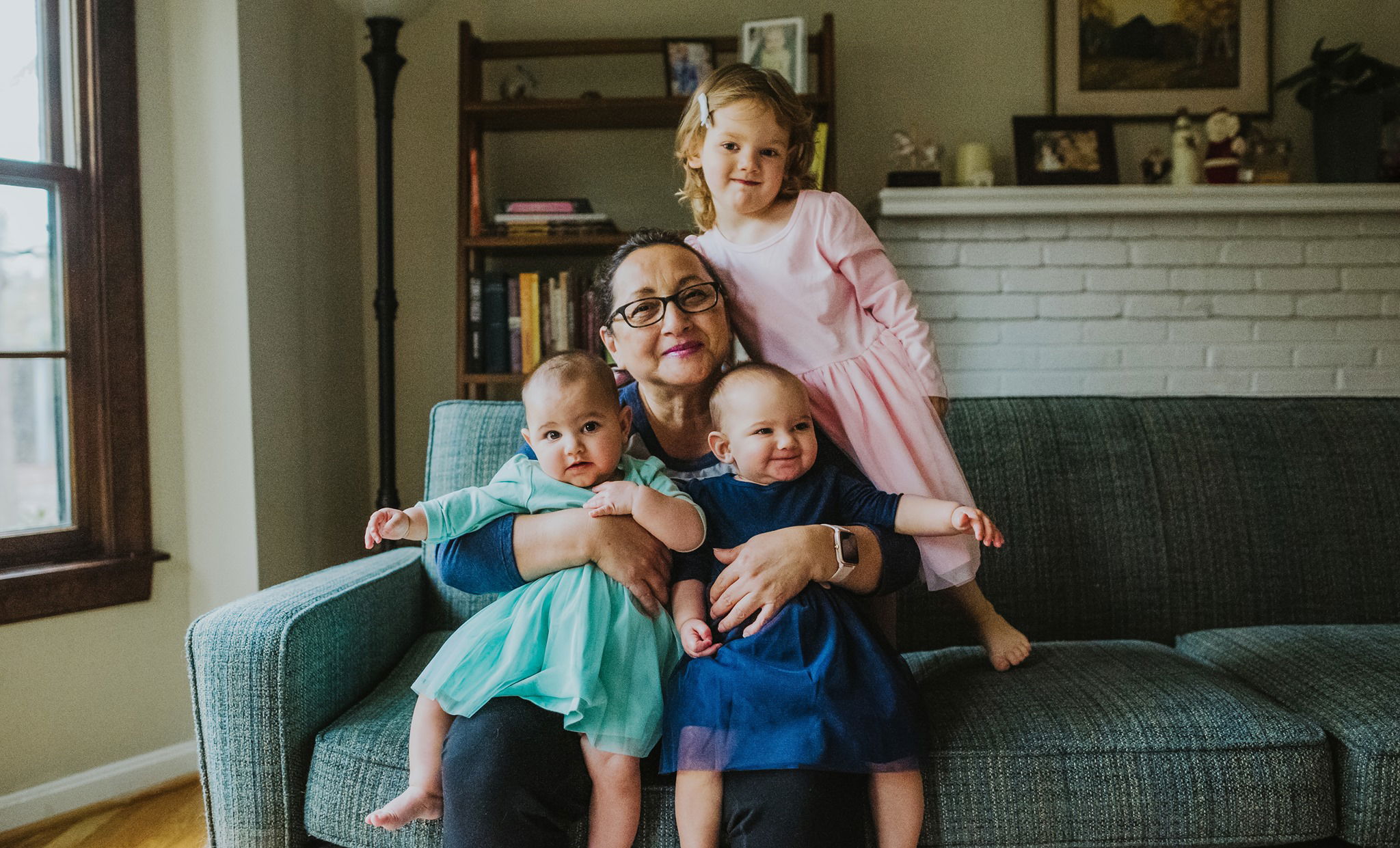 November
In November, we said goodbye to Janeth, who returned home to Colombia. Gisele also started crawling (which seems amazing now, since Vivienne just started crawling in mid-January). We had another round of family photos taken before our photographer moved to Hawaii. We invited Carol, our nanny, to join us in the photoshoot, so she's pictured above. She started taking care of the twins in October, and has been an absolute blessing in our home.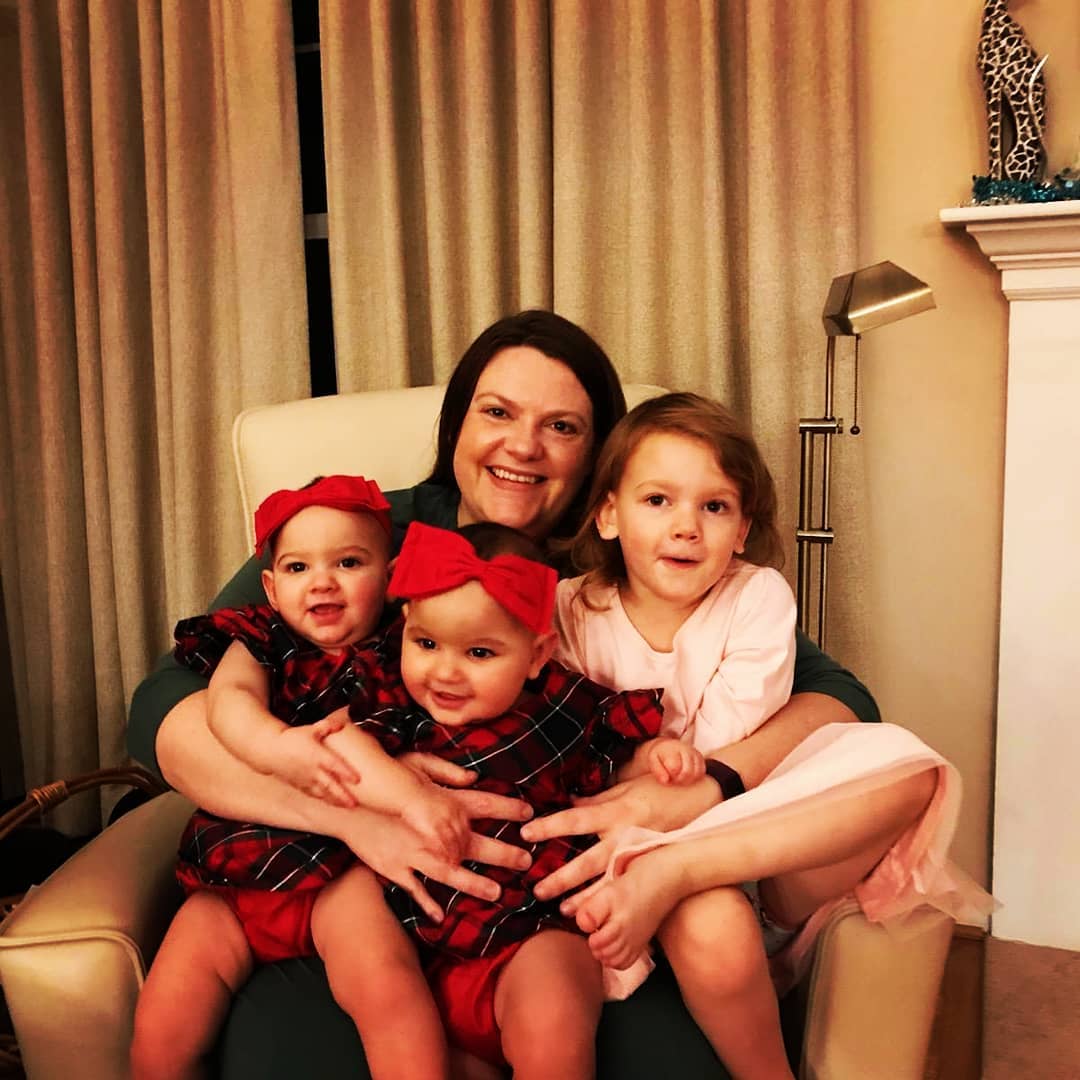 December
Anais is now of an age where she gets really excited about things – especially lawn decorations. Back in October we spent many evenings driving around looking for Halloween decorations, and for Christmas we did the same. There is a house in our neighborhood that has maybe a dozen inflatables, and Anais would request to see it almost every time we got in the car. It was so much fun to watch her excitement over Holiday lights and a large inflatable dinosaur wearing a red hat. This picture was taken at my in-laws on Christmas Eve. By the way - do you know hard it is to get a picture with three little kids where they are all even facing the same direction?

I hope 2021 brings just as much love, but also a good deal more social interaction. Cheers!

Want to stay updated on new posts? Follow me on Facebook and Instagram.

Share in the comments your best/worst of 2020!

Please note that the Gobble link below is an affiliate link and I am compensated for any purchases.