As a new mom, or as a new twin mom, it's not uncommon to feel trapped at home. This is especially true in 2020, as we are at home pretty much all the time due to Covid. However, for your own sanity, I do think it's important to try to get out of the house - assuming you can do so safely. With Covid, we've been limited to just going places where we can stay outside, so everything is weather dependent. We try to regular go to local parks - at least if they have paved walking trails for our stroller. (Many times I've driven to a new park, only to find out that the path is not suitable for our stroller).

Our Stroller Set Up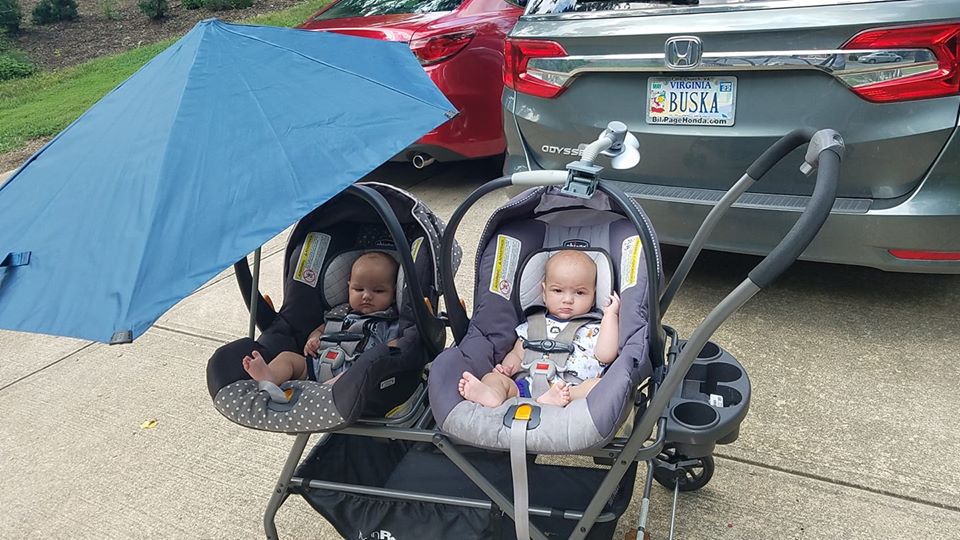 The most important thing to start with is the stoller. We have a Joovy Twin Roo+ Car Seat Stroller. I'd love to say I did all my research, but honestly, another twin mom just gave this to me (along with a Mamaroo and a Table for Two!) But it's amazing. It's really easy to put the car seats in and out and it's easy to set up and fold up.

It was a struggle taking the girls on walks with the bright sun - infants shouldn't wear sunscreen, I was constantly fiddling with muslin blankets, or moving them to face the other direction in the stroller every time we turned to try to avoid the sun on them. Then I found the perfect umbrella for our stroller! It's large enough I can turn it to cover both twins, and it's incredibly easy to set up and take down.

We also bought two foam fans - these are amazing for hot days, and ensure that our babies stay cool when we are outside. We also use them if we eat outside for dinner - we attach them to their seats so I don't need to worry as much about them overheating.
What's in our Diaper Bag?
Initially it feels like getting out of the house takes forever with three young kids, but once you get the hang of what you need, it's substantially easier to through everything together and go. Here is what we take with us each time to make things easy:
One extra outfit for each kid (PJs if we will be coming back close to bedtime)
At least 2 diapers for each kid (extra underwear for our toddler)
Individual formula packets - these are a lifesaver. I just always make sure we have 4 in our bag for our twins and I don't need to bother with measuring anything. We don't even typically use Enfamil - but these packets are so handy and the none of my kids have ever cared which formula they are having.
Two or four bottles pre-filled with 4 oz of water - then you can just toss the packets in and shake. Our favorite bottles are Comotomo and Avent. If you are using the packets, be sure to take 8 oz bottles, the 4 oz ones are a bit small when you add both the water and the packets.
Kid friend sunblock and bug spray
A water bottle for Anais (my toddler) and one for me. I recommend the kid's Camelback water bottles - I love them because they don't spill if she has them in her car seat.
Practice Makes Perfect
To be honest, the first few times we tried to go anywhere with all three kids, it felt like an incredible hassle and I was worried we'd be stuck inside for the rest of the year, but this is really an area where practice does help! At this point, we are so much faster getting the kids ready and loaded up, and we no longer have to really think about what we need when we go some place. With Covid, we aren't going many places, but we do try to go to new parks to go on walks outside with all of the kids regularly.
Please note the links above are Amazon affiliate links. As an Amazon Associate I earn from qualifying purchases.
Want to stay updated on new posts? Follow me on Facebook and Instagram.