For Christmas, the gifts my kids received were a mix of things I had suggested, and complete surprises. Some of those complete surprises turned out to be Anais's favorite new toys! I asked my August Bumpers '17 mom's group what other surprise gifts were huge hits in their houses to compile them for you to below! If interested in more gift suggestions, check out our Toddler Toy Recommendations from 200+ Moms.

Indoor Toys

Scoop and Serve Ice Cream Counter
Anais's grandmother bought her this. I hadn't ever seen it before, but I thought it looked really cute. It's a miniature ice cream counter, complete with ice cream cones, various flavors of ice cream, and a variety of toppings. The little ice cream scoop really works to pick up the ice cream. It's designed so you can stack up multiple flavors if you like. Anais LOVES this gift. She makes ice cream for us multiple times a day. Yesterday morning, before breakfast, she brought three ice creams to the table, and said there was one for me, one for her dad, and one for her nanny. Then she said, I don't one! You'll have to make me some real ice cream for breakfast. Nice play, kid, but I wasn't fooled.

Marble Run Super Set
I remember playing with this when I was a kid! One consistent theme amongst the moms who suggested this toy was that they felt the parents had more fun with this than the kids. One of my friends commented, "Last night, my husband and I made separate tracks and raced marbles down them."
Digital Kids Camera
Many toddlers are excited to see their photos. Sometimes Anais will even say, take a picture so she can see it. This digital camera allows kids to practice their own photo skills! And for moms who lament there are so few pictures of them – this may be one way to improve that. Although I cannot vouch for the quality of said photos.
Flower Garden Building Toys
This toy has been applauded multiple times in my mom's group. The kids love building gardens and creating their flowers.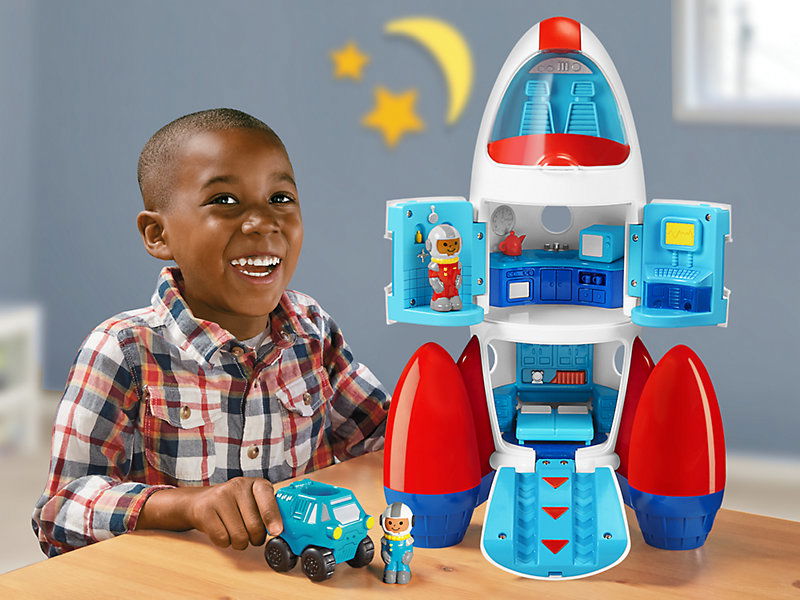 Play & Explore Rocket
My friend's son Maddox got this Rocket from Lakeshore Learning and is obsessed with it. His mom reports that he spends hours with it – which is really amazing for a 3-year-old to play with a toy for so long.
Fingerlings Hugs Kiki – Interactive Plush Baby Monkey Pet
One of my friend's sons didn't like stuffed animals, until he received this one. He named it Sparkles, and according to his mom, Sparkles can snuggle, kids, wrestle, and be thrown in the air, and is now a member of their family.
Magnetic Play Set – Pet Hospital
Anais's friend Libby received this and loves putting together various scenes. Petit Collage has a variety of other magnetic play sets that are also a big hit.
Manhattan Toy Nursing Nissa Hedgehog
This hedgehog set has embedded magnets, so the baby hedgehogs (or hoglets? Is hoglets a real thing?) can nurse with the mamma hedgehog. I think this gift is a great present for a kid who has (or is getting) a little brother or sister.
Butterfly Wings for Kids
One lucky little girl got a set of Monarch butterfly wings! For a while Anais was obsessed with "flying like a butterfly" so this may need to go on her wishlist for her next birthday! It's also really inexpensive, so it would make a great gift for toddlers.

Collapsible Frozen Dollhouse
Looking at this toy, my favorite part about it is that it folds up and can store all of the toys that come with it inside! One of my current biggest pet peeves is how many toys we have that aren't contained together, and just end up in a jumbled mess.
TonieBox Starter Set
Multiple toddlers from our group received the TonieBox over the holidays. I hadn't heard of it before, and looking at the Amazon description I couldn't easily figure it out, so I asked the other mom's to give me an overview, "it is a audio interactive box. It comes with a creative character that you can record 1.5 hours and your kid can listen to. You can bundle or buy different characters that either play songs or tell a story 10-15 min long. To skip chapters/songs you hit the box so it is really durable. Headphones can also be plugged in for quiet listening and it has simple volume controls through the ears." Another parent said, "it's easy enough for our kid to operate on her own. She can change the character, volume, and story easily."
Hot Wheels City Robo T-Rex Ultimate Garage
Multiple toddlers received this gift as well. The parents report their kids are obsessed, and one mom said it's wonderful that it doesn't require batteries (and I can imagine it's also wonderful that it doesn't make a ton of noise).

Battat Take Apart Crane with Toy Drill
This toy comes with 30 pieces that your toddler (or you!) need to assemble. Word on the street is that it's a toy that is generally enjoyable for parents to play with as well as toddlers.
E-gle Balloon Powered Car
Both Liam and Bea from our group love this toy! You add the balloon on the car or the rocket, pump up the balloon with air, and then either the car moves forward, or the rocket ship or astronaut flies up into the air.
Games
Zingo Bingo
One parent remarked this game was the hit of their holiday season. The pictures on the Bingo cards let toddlers play more independently, and for early readers, they also have each word written aloud.
Arts & Crafts
Rainbow Scratch Off Paper Art Set
One note of caution – we had these earlier this year and I could not stand the sound of the wood sticks on the paper. While it was fun to make use these, and Anais enjoyed it, I couldn't stand the noise so I am not planning on buying again.
Play-Doh Wheels Firetruck
This firetruck spits out play-doh fake water (play-doh colored two shades of blue). One toddler loves playing with this and will play independently for up to 30 minutes at a time. The set also comes with a set of play-doh scissors that are a big hit.
Rock 'n Gem Surprise, Sorting, Matching, & Counting Skills Activity Set
Three mom's reported that this was a huge hit at their house. Even one toddler who received it for their birthday back in August still loves to play with it.

Dress Up & Clothing

Little Adventures Dress Up Clothing
Does your toddler love to dress up? This website has machine washable play outfits, including the ever popular, "Ice Priness" and "Island Princess." Regarding dress up clothes, my word of caution is to avoid things with lots of sequins. I once got an Ariel dress from my buy nothing group, that was almost all sequins. After three days we threw it out and I occasionally still find a random sequin somewhere in the house. Little Adventures clothes look quite devoid of sequins, and are machine washable which is a must!
Princess Slippers
These were a huge hit for one little girl. Although she doesn't usually put on shoes by herself, she loves to put these on by herself every morning.

Books
Encyclopedia Prehistorica Dinosaurs: The Definitive Pop-Up
Anais's friend Libby is obsessed with dinosaurs. Libby's aunt gave her this book for Christmas and Libby says it's the "best book EVER!" The pop-ups are really elaborate, the illustrations are pretty, and the writing is clever.
Outdoor Toys
Let's Go! Binoculars for Kids
When we went on our Covid vacation back in September, Anais's grandmother bought her a pair of kid's binoculars. They actually worked really well – even I used them to look across the Potomac or to watch birds.
Please note that Amazon and Gobble links are Affiliate links and I may be compensated for them.

Want to stay updated on new posts? Follow me on Facebook and Instagram.

Do you have any of these toys? Or did your kids get something unexpected that they love? Share more in a comment below!